Replace, Upgrade, Improve Your Vision with HELLA and HIDs

Improved the headlight system for your Class A, Class B, Class C Motorhome. Why struggle to see the highway. New models already have this upgrade. Now you can add it to your older RV.

Better Vision Not An Option


Replace Your Sealed Beam / Upgrade To RV HIDs
All the Vision kits are covered with a manufactures 1 year warranty. If you have a bulb burn out under warranty you will get a new one for free. Simply ship it back to us and we will send you a new one.
NOTE: A 3 spade connector means it is a HI/LOW combo application
TAKE NOTICE: Identify your application
View the pics below. Select the one that best resembles your application.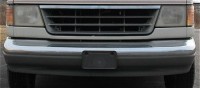 Typical class A new models with composite style headlights. If not factory installed can be upgraded with HID Bulb Kit only.
Here again a typical composite headlight system. Usually consists of one low beam and one high beam in the same composite assembly. Remove bulbs to identify version neccessary to upgrade to HID
Composite again. Similar to above application. Factory application will usually just be halogen bulbs. Replace with HID Kit to improve 300% of useable light on the road.
Here is probably one of the most requested applications we sell. It is a older motorhome with dual rectangle headlights. These are sealed beams and our HELLA lenses will fit and replace the lenses so you can just change the bulbs and not the full lens. The outside bulb will usually be the low beam and the inside will be the high beam.
Try this test. When you turn on the low beams the low beam light, usually the outside one will light. When you turn on the high beams both will shine. This means that the low beam light is a dual element bulb. It works low and high beam, all in one bulb. The high beam bulb is a single element bulb and only works when you turn on the high beams. You have to consider this when you buy the HID kit for your motorhome. Generally the H4 bulb for the low beam is a combo HI/LO bulb You have HID while in the low beam mode and high beam mode as well. This gives you the best lighting possible. All of the HID kits we sell off the Reference Table reflect the H4 HI/LO combo bulb. Follow the column on the reference table (Bulb Versions) that identifies the bulb style the replacement lense takes. If you are still in doubt what fits, just call us. We will be glad to help with your application.
Composite headlights with a replaceable bulb system. One bulb will work both high beam and low beam. Usually H4 or 9003, 9004,9007 or H13. Buy you HID bulbs based on what is written on the bulb once you remove it.