Replace, Upgrade, Improve Your Vision with HELLA and HIDs

Improved the headlight system for your Class A, Class B, Class C Motorhome. Why struggle to see the highway. New models already have this upgrade. Now you can add it to your older RV.

Better Vision Not An Option

Sealed beam headlights are an older type of forward illumination headlamp attached to the front of automobiles and trucks. The sealed beam headlight was first introduced in the 1940s, and became a standard headlamp used in the United States for the next forty years, constructed of standard, tungsten incandescent filaments. Early in the 1980s, United States safety regulations finally permitted use of halogen filaments in a sealed beam headlight, which provided a driver with a brighter illumination for driving, and much improved energy efficiency
Besides the increased cost and labor needed to replace a sealed beam headlight, sealed beam headlights also produce a low intensity beam of light for a driver. The sealed beam design is significantly dimmer than a modern composite headlamp assembly which has the bulb, lens and reflector as individual components. A newer, composite headlamp assembly requires just a bulb replacement when the headlamp burns out. A composite headlamp also produces increased illumination, with a more intense beam for the safety of the driver.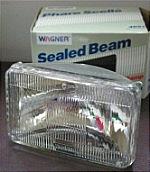 ID Your Lamp
If your RV is using this older type of headlights (sealed beam) you have a great way to upgrade. Replace the lamp with a conversion headlamp. HELLA and Vision X has the best conversion headlamps available. Glass not Plastic
What you need to know is the lamp size. Measured width and height if your lamp. Measure the diameter if your lamps are round Hella has 5 different sizes. 3 rectangle and 2 round versions. These conversion headlamps have glass lenses not plastic like some cheaper versions. Each one comes with its own Hella Bulb and dust cap. They are sold as an individual lamp or as a kit. Your measurements might not match the exact measurement of these lenses. You have a certain amount for tolerance. Any cross reference numbers we have are listed beside each lens. View additional details on each lens by selecting more info.
These Hella and Vision X headlamps take headlamp performance higher than ever before. Delivering the maximum in lighting performance, the Vision Plus headlamps feature halogen bulbs and a highly polished metal reflector. The use of advanced optics provides a more uniform, controlled, and even illumination of the road, increasing range and reducing eye stress.
Composite or Module plastic molded OEM headlights. This type of headlamp system allows you to just replace just the bulb. Big advantage here to upgrade to the HID kit. Match your bulb number written on the bulb itself with a Vision Kit from RV Headlights. Increase your vision by 3X over factory OEM bulbs. The only disadvantage is if your lenses are cloudy or yellowing. Use a headlight restoration cleaner to bring back to life.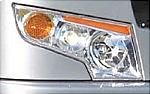 Replace Your Sealed Beam / Upgrade To RV HIDs
Hella's Vision Plus conversion headlights adapt European technology to US lighting standards and driving conditions to produce superior headlight units that replace your dumpy, ineffective old 7 in. round or 200mm rectangular headlights. They produce the brightest, most powerful light possible--right at the legal limit--without increasing glare. More importantly, their precise optics produce a much longer, wider, larger, and better illuminated pool of light in front of your vehicle. You'll love the improvement. In addition, they have replaceable bulbs, so you don't have to buy a whole new unit if one burns out.
Make use of our RV Headlight Conversion table to help you identify your application
NOTE:
For reference we are using the part numbers from Hella on the table. These are common P/N, mostly found on the RV headlights(usually on the back side of the old sealed beam). These are top quality lenses with glass.