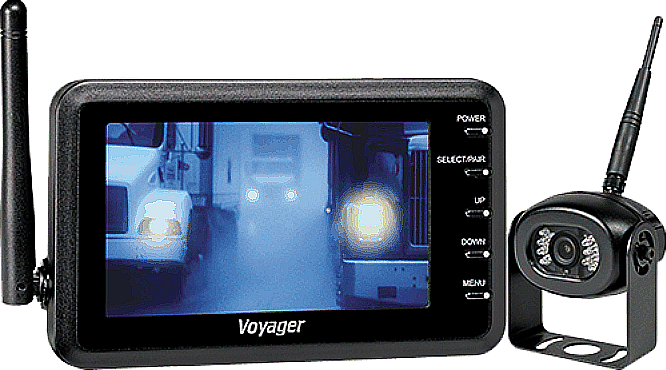 WVOS43 - Digital Wireless Observation System

The WVOS43 now allows operators to view more with less using its wide angle views in a compact 4.3 inch display that can be stowed easily in the center console or glove compartment when not in use. It offers WiSight® auto-pairing of up to four wireless cameras so operators can see their rearview and blind spot areas of the equipment at any time. The included camera features a CMOS lens, built in microphone, and excellent low-light performance. The system also transmits signals through and around objects up to 60 feet away.
• Supports up to four wireless cameras (WVCMS130AP) and one wired Voyager camera simultaneously
• Auto-Pairing capability allows monitor to be paired with any of the (up to) four wireless cameras (WVCMS130AP) with the press of a button

Want to add another camera. Maybe a camera close to the trailer hitch. Add another or up to 4 more if needed.
WVOM43 MONITOR
• Bright 4.3" display
• Compact size allows for easy storage in armrest, glovebox or center console when not in use
• Can display visual points of reference indicating your vehicle's distance from objects while backing up
• Built-in speaker
• Suction cup mount and 12V DC plug included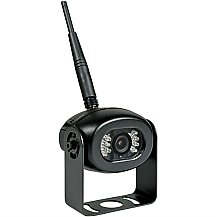 WVCMS130AP
A question that arises quite often when we talk to customers is "Do you sell a wireless backup camera?" Finding a good one that is easy to install and works great seems to be difficult. We have sold the popular Voyager Brand for years and do offer this wireless version. I have sold many of these to customers for use on heavy equipment as well as semi trucks. This product is built to last and comes from a huge well known manufacture, ASA Electronics.

This kit has the strongest transmission available so it will cover up to a 60 foot range. If you motor home is longer than that you will have to use a wired version.

Makes it easy to install since the hardest part of the install would be routing a cable from the front to the rear of the rv is done wirelessly.

Mount the monitor on the windshield close to the driver with the furnished suction cups, plug the power into the cigar lighter and the monitor is done. Mount your camera on the rear of your motorhome. Connect the camera to one of your clearance lights by way of 2 wires, (power and ground). This will allow you to operate the camera any time you have the parking lights on. You can connect the camera to any 12 volt power source you like. It only takes 2 wires to connect.

Owners Manual

866.424.0575
Don't Take The Risk With Dim Outdated Headlights On Your RV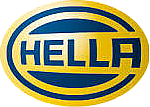 RV WIRELESS BACKUP CAMERA SYSTEM