Replace, Upgrade, Improve Your Vision with HELLA and HIDs

Improved the headlight system for your Class A, Class B, Class C Motorhome. Why struggle to see the highway. New RV models already have this upgrade. Now you can add it to your older RV.

Better Vision Not An Option


Replace Your Sealed Beam / Upgrade To RV HIDs
Save on a COMBO PACKAGE with HELLA & HIDs
Convert Your Old Sealed Beam
Headlights to Modular Headlamps. Add HIDs for better nightime driving
I think we all agree that most of the older model Rvs could use better headlights. Better vision makes the trip safer and more enjoyable. But it has come to our attention that the rear backup lights need attention as well. With such a big vehicle going forward with limited vision lights is no harder than backing up the beast with the poor rear lights offered by the manufacture. You can't blame the manufacture soley because he used common available backup lights for the year the RV was manufactured. Well great news to us older folks that could use a little help in the backing up department.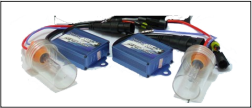 Now you can improve you Rv's backup lighting with Backup HIDs
Included in Kit
2- Ultra Slim Ballast
2- Bulbs
Waterproof connectors. Comes with bulb style adaptors for T15/T16S, S25-1156S, 3156/7440S for direct connect
Keep your factory backup light housings and replace the factory bulb with a HID bulb with a Digital ballast. Easy to install. For most applications is a simple PLUG&PLAY. Will improve your lights 200% over the dim factory lights. No additional draw, works with the factory wiring.
BACKUP HID KIT
T15/T16S, S25-1156S, 3156/7440S
HINT: Remove your factory buld and look for a bulb style to ID the version. If it matches one of the numbers we show on the left it will adapt to the harness and work.

Works on any type of vehicle with these bulbs. Adds to the ability to see with your rear view cameras. Great for tow vehicle as well as SUVs.